Reliable & Effective Firestop Sealant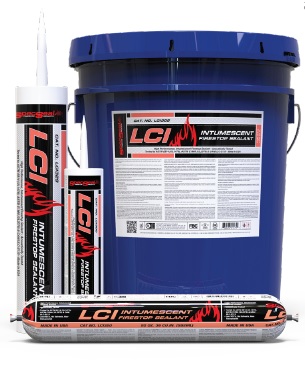 STI Firestop, a trusted leader in the fire protection industry, continued to innovate new generation of products. The SpecSeal® LCI Intumescent Sealant is one of the latest evolutions of firestopping line of product with an environmental advocacy initiative in mind.
UL® GREENGUARD Gold Certification Fire Sealant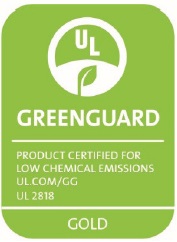 SpecSeal® LCI Intumescent Sealant or caulk, a GREENGUARD Gold certified and tested Firestop Sealant not only meets most demanding firestop requirement, but  also uniquely formulated to emphasized on a healthier indoor environment.
This means having low emitting VOC's (volatile organic compounds), airborne chemicals and asbestos.  This particularly, set STI Firestop sealant apart as the preferred choice for use in potentially sensitive environments such as educational, healthcare facilities and offices venues. In addition, they complies with Global Green Building System as well.
Affordable, Easy-to-use Firestop Sealant
This latex, water-based Firestop Barrier Sealant is economical and offer ease of installation. They can be clean-up and paintable when dries. Versatile for a wide range of penetration passing-through structure like floors, wall, ceilings and construction joint applications.
Suitable for application such as to metallic penetrants, non-metallic penetrants (PVC, CPVC), insulated pipes and on common electrical power distribution service.
The excellent caulk rate, of this high-performance intumescent sealant offering a long-lasting solution for a variety of applications in commercial, industrial or residential construction assemblies.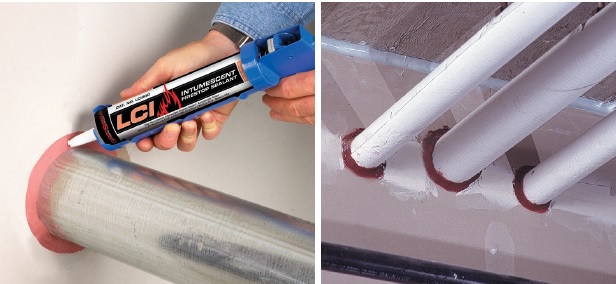 Reliable and Effective Fire Protection
SpecSeal® LCI Fireblock Sealant are used to prevent passage of flame, smoke and noxious gases leakage. For instance, they has the capacity expand up to 10 times when exposed to heat, overall closing off combustible penetrants. At the same time, they are able to provide up to 4-hours of fire protection, overall allowing occupants to be rescue and fire to be extinguish to minimize damages.
Besides that, they are tested as an excellent sound barrier and acts effectively minimizing noise transfer.
This non-combustible sealant is tested and exceeds the ASTM E814 (UL147), CAN/ULC-S115 of Flame Spread & Smoke Development. In fact, it is also UL Classified Systems in material-specific to insulation type, thickness, density and firestopping material.
Features & Benefits:
Available in caulk tubes, sausages and pails
Safe, low VOC's, no asbestos, no PCB's, no inorganic fibers
Excellent smoke seal
Acoustic barrier
Water resistant
Paintable, when dry
Compatible with CPVC Piping
Tested for use in through-penetration and construction joint
Used in over 500 UL® Tested Systems
UL ® GreenGuard Gold Certified
Firestopping is more than just installing sealant in a penetrant hole. It is altogether a critical component of a building's overall life and safety system.
Ultimately, having a credible firestopping system helps protects property, but more importantly saves life's by inhibiting fire from spreading, allowing valuable time for occupants to exit.
Parallel to our vision of helping customers optimized fire protection, but also reducing exposure to potentially toxic health hazard VOCs. We are proud to bring you STI Firestop's, SpecSeal® LCI Intumescent Sealant.
We know that, choosing the right firestopping sealant can be confusing. Do consults us for advice and further information.